Prevention is the best treatment.
Keep one step ahead of heavy repair costs with a helping hand from Tor.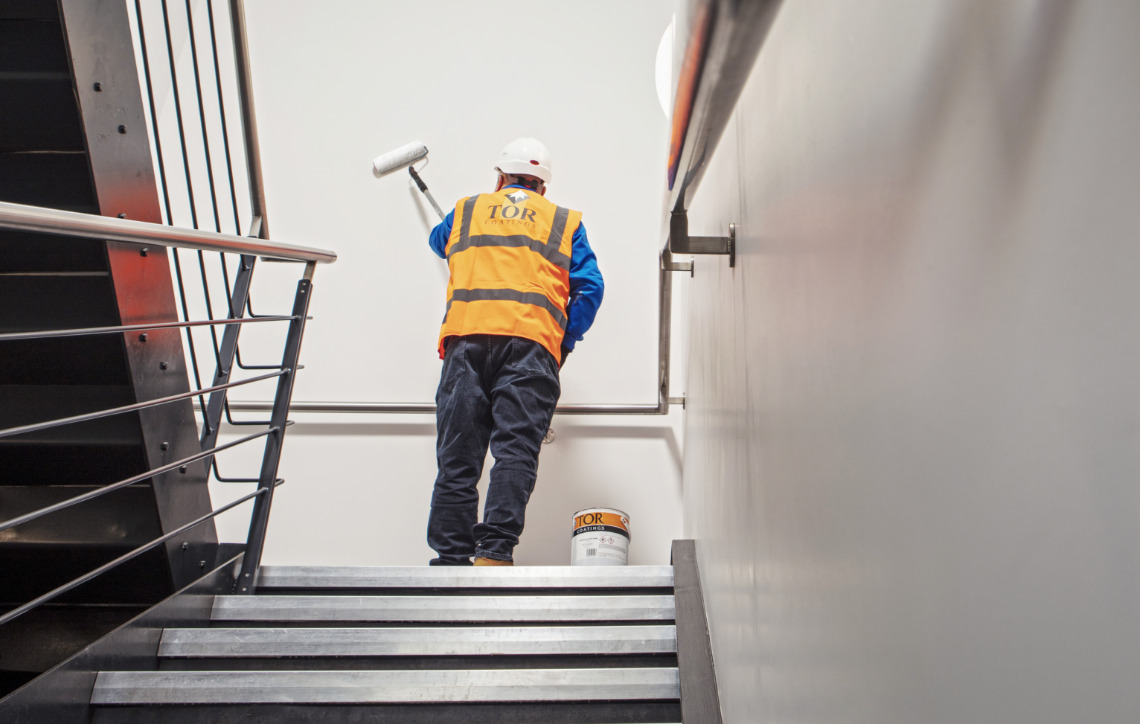 There's no time like the present for staying one step ahead of your site maintenance
From protecting internal walls with flame retardant Torrex to keeping communal flooring safe with Elastadeck, we have a range of industry-leading products that can tackle any project. Our high-quality services are also on hand to provide insight and advice when the worsening weather brings contract work indoors.
Internal walls, stairwells and communal walkways can all gain an advantage from a comprehensive free site survey. Tor Partner Contractors dedicate their time to a building's interior upkeep, as we improve social housing, shopping centres and access areas in car parks.
With issues such as the build-up of traditional, non-fire-resistant paint on walls and the slip-resistance of escape routes also being considered, our expert recommendations of top-quality products result in peace of mind and cost-saving solutions.
Torrex
Preventing fire damage with Torrex.
Trusted and proven in the field, Torrex is able to assure performance, quality, reliability and maximum protection in every project. In assessing existing layers of traditional, non-flame resistant paint, our field-based specialists carry out an assessments of your communal areas and compile a specification of the performance your budget needs. Never over or under specifying is the Tor promise.
The system allows users to upgrade the fire performance of existing coatings on walls and ceilings in communal spaces, stairwells and fire escapes in as little as 3 coats – a completely cost-effective means of meeting  Class 0 fire rating requirements.
Find out more
Elastadeck
Elastadeck is the complete solution in intelligent waterproofing systems.
With winter coming, it's the best time to assess communal walkways & access areas to provide any protection needed. Elastadeck's low-odour, fast-curing coating system guarantees a disruption free application in areas needing slip-resistant and fully waterproofed finishes. The hard-wearing resin coating system holds an equally as strong track record in the social housing sector.
With a low-odour formula and only 2 coats needed, Elastadeck can be installed with minimal disruption to your business, making it one of the quickest proofing systems on the market for internal, communal walkways and passages.
Find out more
Online CPD Learning? We've got it covered.
Additionally, our CPD courses allow you and your team to update skills and maintain professional credentials, further developing the technical expertise of your site and ensuring that it is safe for the years ahead.
Sign up to our newsletter
Be the first to receive exclusive news, expert advice, competition details and more.
Stay up to date with Tor Coatings and sign up to receive our email newsletter below.
Sign up